Content Management Systems
What is Content Management System (CMS)
Evekon Technologies Providing support and services in popular CMS(Content Management System) Most Commonly Wordpress Open Cart Joomla and Drupal for better and fast result if you are thinkting to have a fast and reliable solution regarding content management system do have a call to soft Evekon we provide you the solution that suits you and your business.
The Content MAnagement system refers to manage the the content of a website OR the management of website's content is known as content management system(CMS).A Content management system(CMS) is combined with of two elements.
the content management application (CMA)
the content delivery application (CDA)
the content manager admin is allowed by CMA and he does'nt know Web languages (HTML and CSS), to manage/orgnize the creation of contents, modification and deletion of content from the Web site without having any experience of Web development.
Content management system
A computer application which refers to publish, editing and modification of contents, organizing, deleting including the maintenance from a central interface refers to content management system(CMS).A content management system(CMS) like this provide methods to orgnize/managr the flow of work in a collaborative environment. These procedures can be manual steps or an automated cascade. CMSs have been available since the late 1990s.
The frequently usage of content management system is to run websites consisting blogs, news, and shopping etc .Now Many of apropriate websites usising the Content management system(CMS)
Main features:
The main function and use of content management systems is to store and organize files, and provide version-controlled access to their data.
A Content management system(CMS) may serve like a digital management system consisting documents, movies, pictures, phone numbers, scientific data. Content management system(CMS) can also be used to store, controle, revise, semantically publishing documentation.
Distinguishing between the basic concepts of user and content. The content management system (CMS) has two elements: Content management application (CMA) is the front-end user interface that allows a user, even with limited expertise, to add, modify and remove content from a Web site without the intervention of a Webmaster. Content display application (CDA) compiles that information and updates the Web site.
Web content management system
A web content management system (Wcms) refers application to create, display,manage and store contents on Web pages. Text and graphics, photos, video, audio, and codes which displays content or interacts with the user are included wiyth web contents.
There are many rules about web Content Management in today's market place and is an important base for any website blogging, articles, news, description of products etc. A Web CMS may catalog and index content, select or assemble content at runtime, or deliver content to specific visitors in a requested way, such as other languages.
usually clients are allowed by Web Content Management System to control over HyperText Markup Language(http) - based content, files, documents, and Web hosting plans based on the system depth and the niche it serves.
Importance Of Content Management System
The Content Management System(CMS) is an application (web-based), which offers capabilities for many users at a time with different permission levels to manage (all or a section of) content, data or information of a website project, or internet application.
Management of contents refers to create, edit, archive, publish, collaborate on, reporting, distributing website content, data and information with users.

An example of a CMS application is a Web Application that provides the following administration, control panel or website management functionalities:

Create, Edit, Publish, Archive web pages
Create, Edit, Publish, Archive articles
Create, Edit, Publish, Archive press releases
Create, Edit, Publish, Archive blogs
Add / Edit events into an Event Calendar
Add / Edit Inventory (products), description, product specifications, prices, photos,
The succes depends pn different components. One of the tpicle components about the succes of a website is to build a brand that users can remember, revisit eaily and tell their friends top visit that .
CMS sites that have not been customized have no branding and personality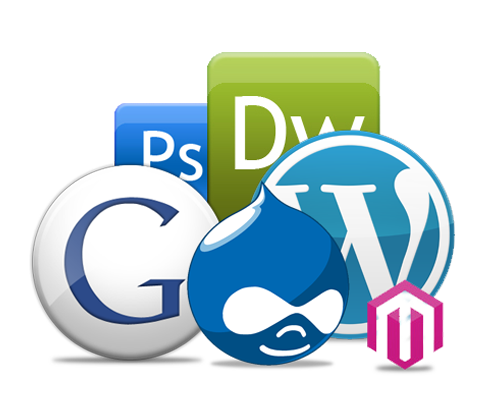 The CDA element uses and compiles and controls that information to update the Web site. The features of a CMS system vary, but most include Web-based publishing, format management, revision control, and indexing, search, and retrieval form the backend system that is database .
There is a variety of CMS in the market each one have its own popularity and usability.
Drop Your Message
In Case of any query fill out the form.
Your message has been sent. Thank you!